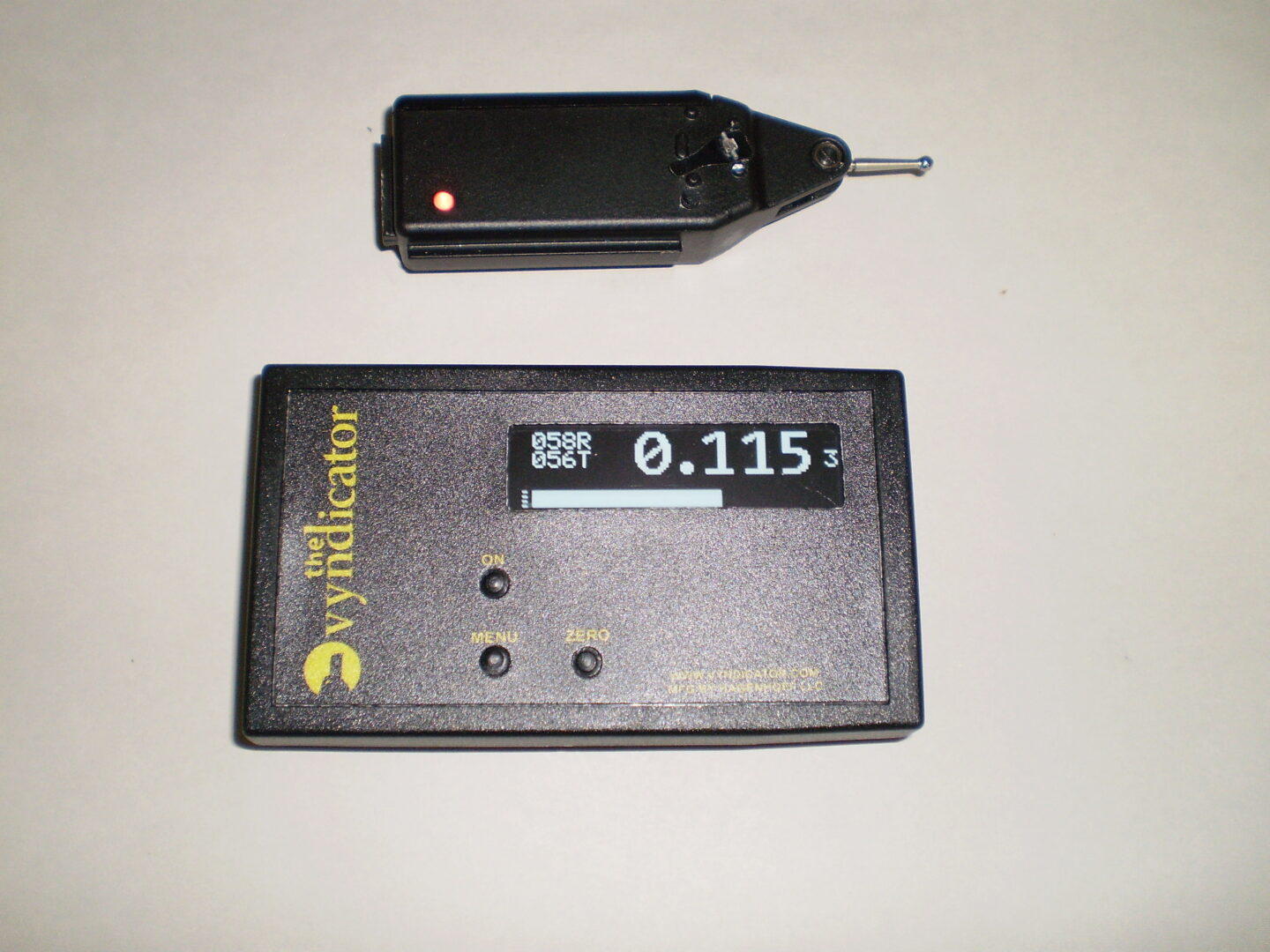 The First Patented Wireless Indicator: The VYNDICATOR
The VYNDICATOR, can provide technicians with a safe way to get the complete measurements of difficult or dangerous locations.
Hagenhoff LLC offers the first patented wireless test indicator gauge that provides a remote readout of stylus movement. Featuring a bright OLED display with traveling stylus position bar, the VYNDICATOR'S ample range and accuracy speeds set up and alignment in difficult to read locations. The 30 foot transmission range accommodates most all remote reading requirements. With Zigbee compliant transmission protocal, multiple units may be used in the same area. Four stylus lengths provide ranges up to .325 inch. The VYNDICATOR uses standard industry mounting VEES. The transmitter activity LED indicates the transmitter is sending. Automatic shutdown occurs after 15 minutes of stylus inactivity if not in continual mode. Two AA size batteries and two CR2032 coin cell batteries are used. The reversible stylus provides versatility.
The VYNDICATOR may be used as a standard test or dial indicator.
TheVYNDICATOR is fully guaranteed for one year for defects.
Machine debugging and repeatability

Milling machine centering operations

Deep hole boring operations

Quality control functions

Replaces Coaxial indicators
Metric and English measure modes

Standard industry mounting VEES

TIR, LOW, HIGH Measure Modes

Use multiple units in the same area

Automatic shutoff when not in use

Moving bar shows stylus position

Battery minute usage counter

Choice of 4 stylus lengths
Accuracy +- .0002 inch with (.780" stylus)

.170 inch range (.780 inch stylus)

.300 inch range (1.40 inch stylus)

Zigbee compliant transmission protocol

Transmitter Size: 4" x 1.25" x 1.5" height
For more information contact:

VYNDICATOR INSTRUCTIONS DOWNLOAD
vyndicator instructions (docx)
Hagenhoff LLC has created a new dimension in metrology with the introduction of the VYNDICATOR wireless test indicator.
The VYNDICATOR fills a niche in centering parts on milling machines, boring mills and lathes wherever the work piece has a bore that is difficult or impossible to indicate. Those pieces usually have a surface that is buried deep in the part and makes reading a regular indicator dangerous or impossible to read.
With four selectable length styluses, the VYNDICATOR's measuring range reaches up to .375 inch.
This long range minimizes the need to reposition the VYNDICATOR. Multiple units may be used in the same area without interference from its neighbor.
The VYNDICATOR uses Zigbee RF transmission technology. The useful range is about 30 feet.
Zigbee technology assures integrity of data transmission. 40 data packets per second are sent assuring real time data. The VYNDICATOR can be interfaced with a PC providing data logging.
Industry is finding multiple uses for the VYNDICATOR. Major firms using the VYNDICATOR include:
The VYNDICATOR case size is: 4.75 by 4.75 by 1.5 inch. Pictured below: VYNDICATOR in case, Workman centering deep bore, VYNDICATOR on 4 foot bar